India has seen an unprecedented surge in the number of recoveries in the last 24 hours. The total number of recoveries in the last 24 hours is 74,894. With this record, the total number of recoveries now is 33,98,844. Also, the Recovery Rate now is 77.77%. The total recoveries on a weekly basis have increased from 1,53,118 during the third week of July to 4,84,068 in the first week of September.

However, in the last 24 hours, there is a report of 89,706 new COVID-19 cases. Maharashtra alone contributes more than 20,000 and Andhra Pradesh has 10,000 new cases. About 61% of the new cases come from only 5 states. The five states are Maharashtra, Karnataka, Andhra Pradesh, Uttar Pradesh, and Tamil Nadu.
The total number of active cases in India now stands at 8,97,394. Maharashtra leads the tally with more than 2,40,000 cases.
A total of 1,115 deaths have been registered in the past 24 hours. Maharashtra has reported 380 deaths followed by Karnataka with 146 deaths, whereas Tamil Nadu has logged 87 deaths.
India also continues to set new records in COVID-19 testing. In the last 24 hours, more than 11.5 Lakh COVID-19 samples testing was done. India is one of the few countries that have reported a very high number of daily testing. In the last 24 hours, the country has conducted 11,54,549 COVID-19 tests.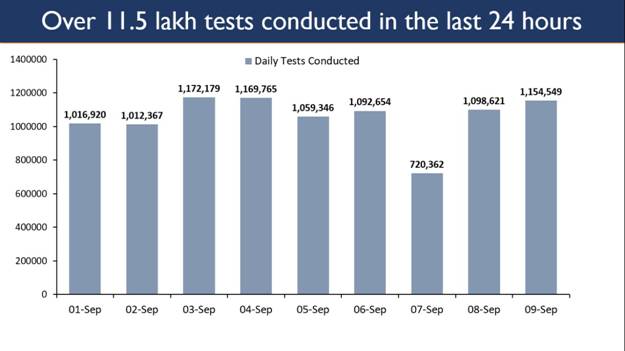 With this achievement, the cumulative tests done now is more than 5.18 crore (5,18,04,677).
This is only possible due to aggressive country-wide testing. The Mortality Rate of the country is at 1.69%, which is very low when compared to other countries.
Expansion of the diagnostic lab network and easy testing across India have also given a substantial boost. The Tests Per Million (TPM) have also seen a sharp increase to 37,539.